Published on Sunday 2nd December was the 22nd annual Sunday Times Virgin Atlantic Fast Track 100, which ranks Britain's private companies with the fastest-growing sales and we are delighted to say that we have ranked 37th place!
When our CEO, Ali Shah founded TravelUp Group he spoke no English and had no experience of the UK travel market. Since then he has grown a company where sales last year rose by 75.34% to £77.2million. We just want to say a big thank you to all of our fantastic customers in the UK, US, Ireland and Australia, we couldn't have made this happen without you.
Ali Shah said: "We have worked so hard over the past 14 years and I would like to thank all of our team both past and present for their hard work and dedication that has made TravelUp what it is today.
A huge thank you goes to all of our partners that have supported the group and of course our customers that have allowed us to be part of their travel experience."
Here at TravelUp, we pride ourselves in offering our customers the best value for money since 2004 and it is thrilling to see our commitment being recognised amongst other online travel agents as well as other brilliant companies around the country.
Virgin Group founder Sir Richard Branson said: "Entrepreneurs are the lifeblood of UK business and have already been the beating heart of positive change.
In a climate of uncertainty, it's more important than ever to recognise those entrepreneurs, like those of this year's Fast Track 100, who are making the world a better place for everybody."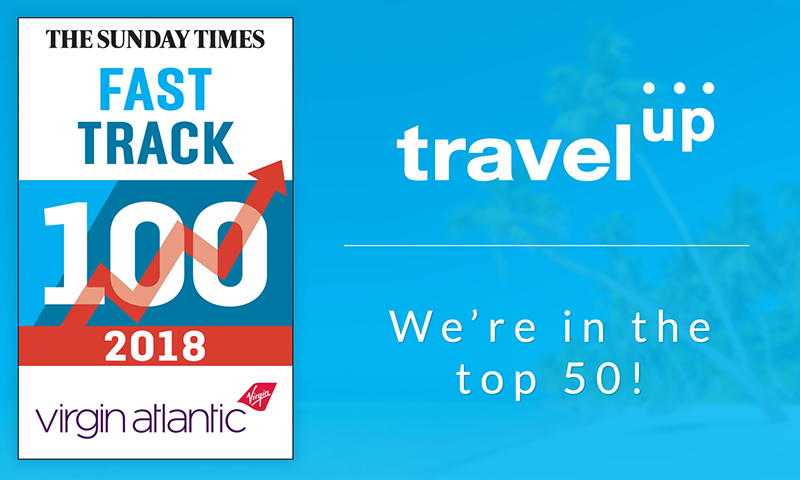 This news comes just months after the publication of Which's? comprehensive research about the best flight booking website, where we came second amongst dozens of competitors. You can read all about that here.
On top of that, we are proud to announce that we have come second in the BDO growth league for UK ATOL Holders over the last three year where we have seen a growth of 75% and came out ahead of Secret Escapes, Ocean Holidays and Travel Republic!
If you are looking for the perfect holiday, affordable flights or anything else, get in touch with us today by visiting our website, our Facebook or Twitter pages or why not pick up the phone and call us at 0118 956 6464.