Celebrating New Year is always good fun wherever you are, and with Las Vegas being the party capital throughout the year you can only begin to imagine what it's like on New Year's Eve. Celebrating New Year's Eve in party central is just another reason to visit Las Vegas ASAP – we've got all the hottest places you need to be so you can welcome 2017 in with true style.
XS Nightclub – Wynn Las Vegas
Wynn Las Vegas has an extremely exciting line-up for you to welcome 2017 in. On Dec 30 is Alesso and Dec 31 you can party the night with Major Lazer. XS Nightclub has been named the "Best Nightclub In the United States" and that should be enough to convince you that this is the ultimate Las Vegas New Year party. You can either party in the cabanas by the pool or enjoy bottle service at the tables or get on the dance floor and dance to the sound of Major Lazer.
Calvin Harris New Year's Eve – Omnia Nightclub, Caesars Palace
One of the hottest and biggest nightclubs hosts Las Vegas New Year Parties on a yearly basis, and this year they are proudly presenting Calvin Harris to help you party your way into the New Year. He is one of the biggest DJ's from England and you can trust that you will have an exciting night at one of the best clubs in the famous Caesars Palace. Read more information here.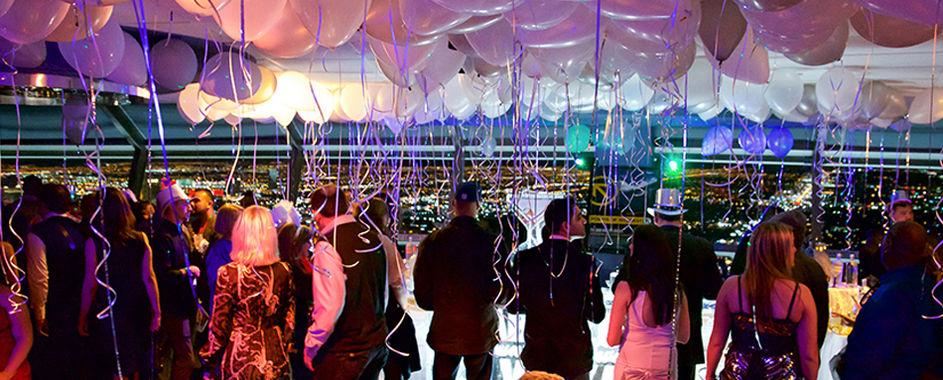 Party in the Stars – Stratosphere
The Stratosphere is one of the places to be all year round, so you can imagine when you're celebrating New Year's Eve in Las Vegas, that the Stratosphere is another must-be. They offer unlimited 3-hour premium open bar and with a club, DJ Kittie performing, dancers and party models, you'll definitely want to check this place out. If you don't want to miss the Las Vegas fireworks either, you'll be in one of the most desired locations for the perfect view. Click here for more information.
New Year's Eve Celebration with Drake – Hakkasan Nightclub, MGM Grand
Hakkasan is one of the best nightclubs in Vegas and the place to be on New Year's Eve. This Asian-fusion brand will be presenting a whole night with Drake to countdown to 2017 so you can make the evening "Too Good" and lose "Controlla". Puns aside, if you're really into Drake and partying like crazy then Hakkasan is the place to be.
Bruno Mars , Park Theater at Monte Carlo in Las Vegas
The Park Theater at Monte Carlo will be ringing in 2017 with a very famous face and he is one of the hottest artists of the year. Bruno Mars will have a spectacular performance at the brand new Park Theater. The arena is seated so this one is excellent for families or those who don't fancy being on their feet all night long.
New Year's Eve in Las Vegas will definitely be a memorable (or forgotten with alcohol) night. With so much going on in the exciting city we don't doubt that you'll be flying after a party!