The sprawling Southern Californian city is home to many exciting things for the kids at heart and the little ones. Booking your family flight to Los Angeles certainly will be the best way to have an unforgettable holiday and introduce them to one of the most relaxing and incredible cities in the USA. Kids and adults will fall in love with Los Angeles, so TravelUp have provided the top things to do in LA with kids.
Disneyland in California
Everyone loves Disney so of course we had to include Disneyland California on our list of fun things to do in LA. It is the only theme park that was designed and built with Walt Disney supervising, so his magical spirit really does come to life here. Do we really need to say anymore about Disney? We'll let you discover the different areas of this wonderful resort for yourself, check it out here.
Beaches
Everyone loves family friendly beaches and Los Angeles certainly has its fair share, so skipping the photogenic beaches would certainly be a mistake. The weather in LA is always pleasant and the city has 284 sunny days a year so you can almost be certain the weather conditions will be perfect to catch up on your tan, build sun-castles or splash in the sea with the kids.
Santa Monica Pier
As well as being one of many free things to do in Los Angeles, Santa Monica is also a great fun place to go with kids. On this pier you can find fairground and coastal rides with something for all ages so even the little ones can get involved. You won't be far from live entertainment either so just a stroll along the pier will be exciting. Nearby are some delicious family-friendly restaurants too so it's a great place to spend your afternoon or evening.
Universal Studios Hollywood
Another recognisable theme park favourite and fun thing to do in Los Angeles with kids is Universal Studios Hollywood and you can enjoy your favourite films through exciting roller coasters. This park has something for kids and adults of all ages, so whether you want to get your heart racing, or simply have a relaxing ride through a popular film, then the choice is there for everyone.
La Brea Tar Pits
Another fun place to go in Los Angeles is La Brea Tar Pits which is a great way for you and the family to discover the pre-historic times of LA. It's the "world's most famous ice age fossil evacuation site". Here you can learn all about what they're digging up and also see some favourite dinosaurs on display including mammoths, saber-toothed tigers. Read more about it here.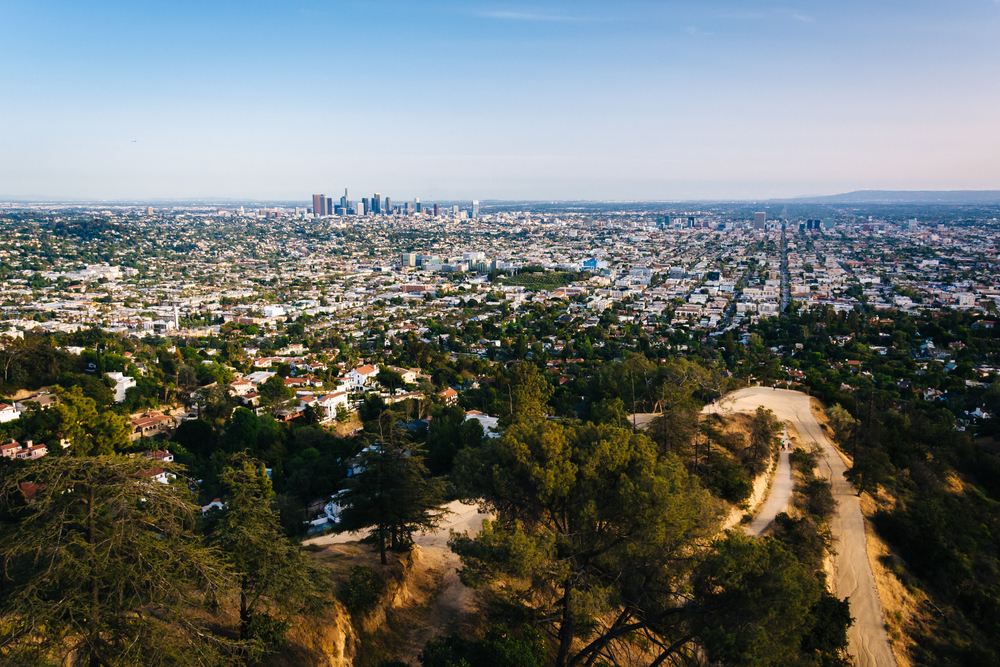 Picnic at Griffith Park
One of our favourite fun places to go with kids in Los Angeles is Griffith Park, and whilst the view might not be enough to entertain the little ones, you could grab some food and enjoy a picnic at this popular spot. Along the way there is also the Los Angeles Zoo and Botanical Garden which is an excellent way to keep the kids entertained. With the wonderful weather too, this activity will certainly be easy to enjoy without worrying about rain.
Hollywood Walk of Fame
The Hollywood Walk of Fame is a great atmospheric area where you get to see the famous stars but in the evening really experience a typical Los Angeles evening. Along the strip you can expect to find live performers and many friendly people willing to chat and show off their many talents. This is one street where you can get an idea as to how unique the locals really are, it's like the talent central of the city.
There are so many great and fun things to do with kids in Los Angeles that makes it the perfect destination for families and adults alike. Many of the fun things to do in LA cater for kids too, making it a wonderful family-friendly destination.