If you are not going to Spain for the tapas then really what are you going for!? Once in the country, visitors will soon notice that there are many ways to eat tapas and many different types of tapas bars. We have compiled a list of some of the best tapas bars in Madrid suitable for every occasion! Are you looking for FREE tapas or somewhere for an extra special occasion? Do you want to relax to music or play old arcade games? Whether you are looking for a tapas bar older than you great-grandad or somewhere up and coming, we have the tapas bar for you!
For the grandad of the tapas scene.. . Bodega de la Ardosa
This bar is the legend among tapas bar for being more than 110 years old! It's impossible not to feel as though you are in your home away from home with the old, well-worn photos on the walls and the shelves and shelves of liquor and wine bottles (ultimate vintage Madrid). Eat a vast variety of good tapas from a cozy seat and enjoy a pint of… Guinness on tap! In the summer, don't be surprised if the party spills out onto the streets outside!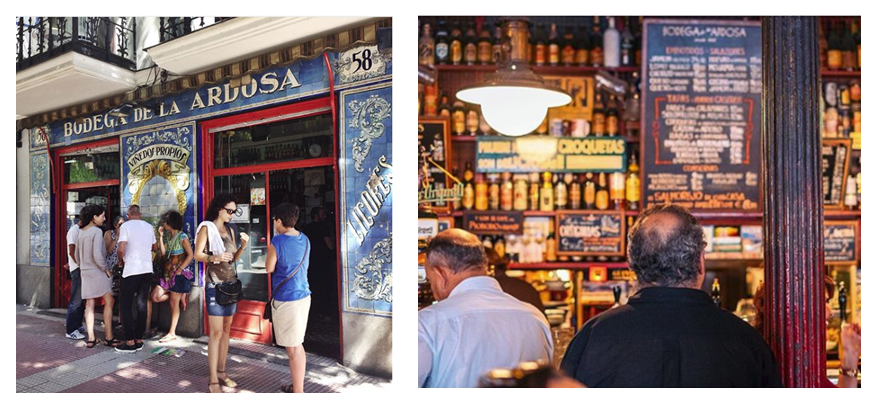 Photo credit left @inthemoodforfoodblog, right @reichbaum Instagram
This is the perfect bar for a huge choice of wine, that you can gaze at in a huge cage of wine bottles behind the wooden bar, to go with your huge choice of tapas dishes! It is located in the popular district of La Latina. Though there is a lot of competition for great tapas in La Latina, Taberna Tempranillo retains its excellent quality, ambiance and style throughout.
Famous for its generous amounts of tapas that comes with every round of drinks, El Rincón Abulense is most popular on Fridays nights with tourists and locals alike. You will find the bar close to Puerta del Sol where there is a small restaurant situated at the back. The food may not be considered too fancy but is delicious and there is plenty of it. From home-made meatballs to mussels and chicken wings there will be something for everyone's appetite.
For a cool, rustic, industrial style bar with relaxing vibes head to La Musa Latina. Not only are the interestingly named dishes such as "hung" (a venison marinated in mushroom sauce) a massive draw to La Musa Latina, but the vaulted cellar bar with ping pong and old arcade games are also big crowd pleasers. Other menu options include wild boar, octopus or huitlacoche (a Mexican fungus)!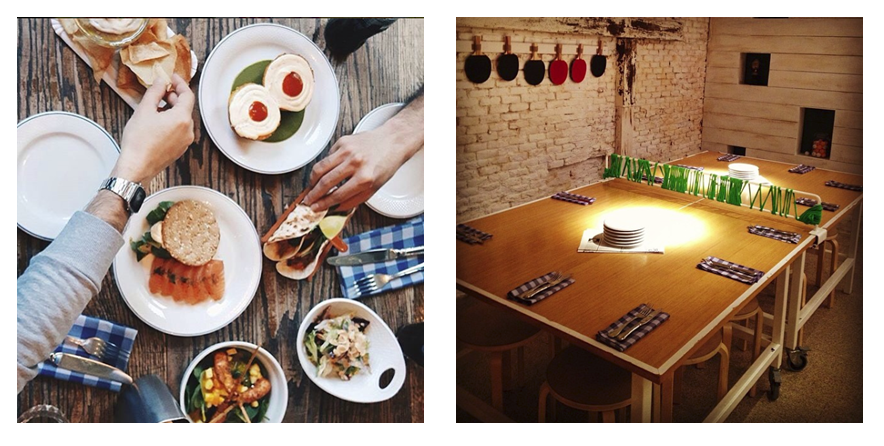 Photo credit @lamusalatina Instagram
If you are looking to listen to some Spainish music while eating some high quality products, head to the traditional tavern, Los Claveles Tavern & Music. This bar does what it says on the tin and specialises in delicious local dishes. Located in the heart of Madrid in the Salamanca district, Los Claveles Tavern & Music is a great place to meet locals and chill out with good friends.
For something special… Vi Cool
This is more of a place for raciones (sharing plates) than tapas… but what good tapas isn't shared around anyway? Owned by one of Catalonia's top chefs, Sergi Arola, you know the food is going to be incredible. This coupled with the impeccable service and trendy, monochrome interior makes this bar an excellent high-end tapas bar.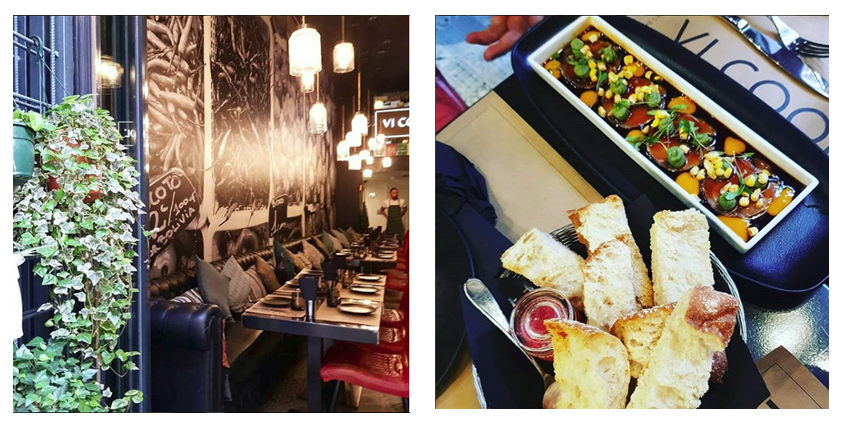 Photo credit @vicoolmadrid Instagram
We don't know about you but those tapas bars have seriously worked up our appetite! Have you been to any of these tapas bars before? Is there a tapas bar in Madrid we have missed off our list? We would love to hear from you on our Facebook or Twitter page!