When picturing Cyprus, it is easy to let imagination visualise white sands and brilliant blue waters. This dream could easily become a reality at some of the best beaches Cyprus has to offer. With at least 49 official Blue Flag Beaches and many more unofficial, Cyprus has more than your pick of places for a great beach day. To help make this decision easier, we have compiled a list of 6 of the most beautiful beaches in Cyprus.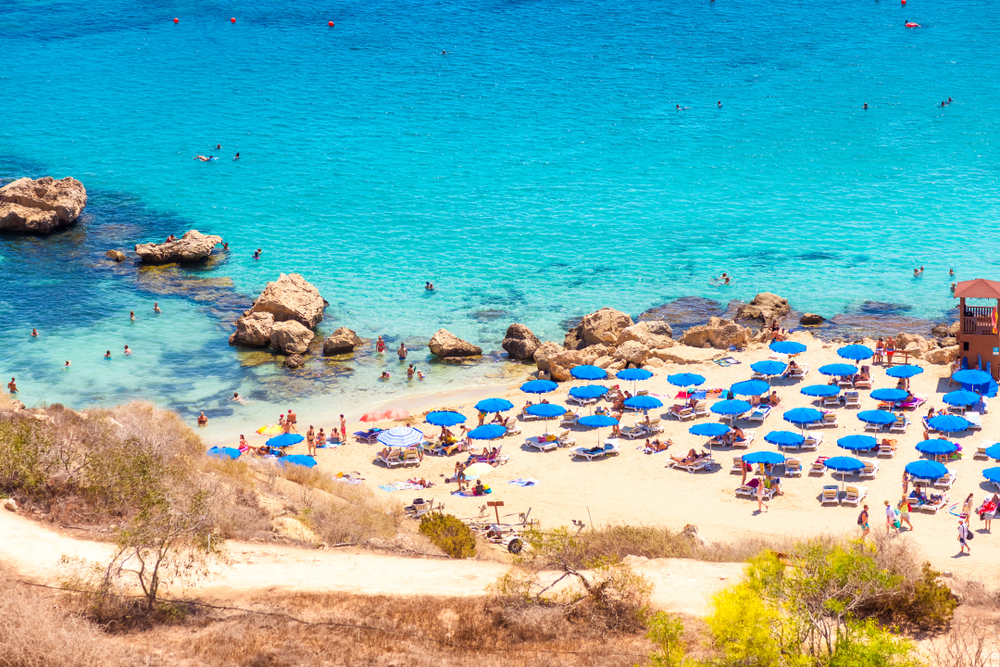 Popular with both tourists and locals alike, it is not hard to see why. Konnos beach has everything one would desire from a perfect beach: white powder sand, turquoise waters as far as you can see and of course plenty of sun! There are a variety of parasols and sunbeds awaiting your arrival and a kiosk located just above the beach for all your snacking needs. The crystal clear, calm water makes this the perfect spot for a bit snorkelling.
The beach gets its name from the attractive fig trees lining this stretch of the coast but the fig trees are not the only beauty in the area. Fig Tree Bay is a very picturesque beach which is home to shallow waters and many rock pools worth exploring. The blue umbrellas along the beach provide plenty of shade but if you need cooling off a little more then head to one of the little huts which sell ice cold drinks and yummy ice creams.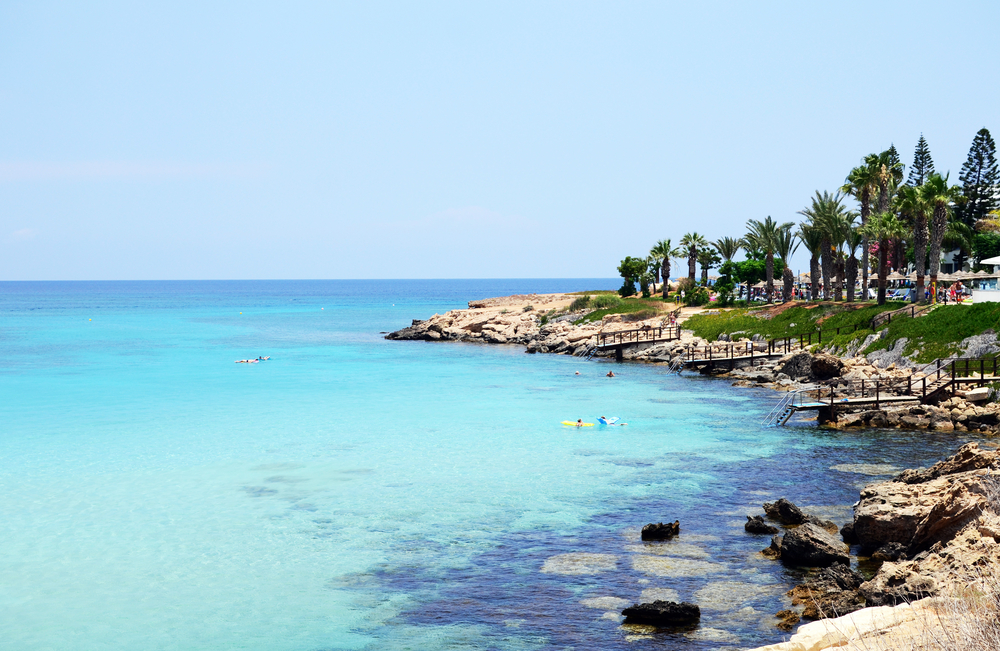 Arguably the most popular beach on the island, Nissi Beach has a reputation for partying, although all the wild parties there have not spoilt its natural beauty. A large curve of white san surrounds the beautifully clear waters and when the tide is low there is an incredible sand walkway that is unveiled from beneath the water leading to Nissi Island. For a daytime party full of stunning views, Nissi beach is not to be missed!
If you are looking for water sports, this is the beach to go. Whilst many other beaches around Cyprus also offer a variety of water sport activities, this beach has great conditions for watersports. It is sure to have what you are looking for to get your adrenaline fix for the holiday, with several companies offering to take you out on the water. You can choose from waterskiing, wakeboarding, banana boating, jet skiing or kayaking – to name just a few!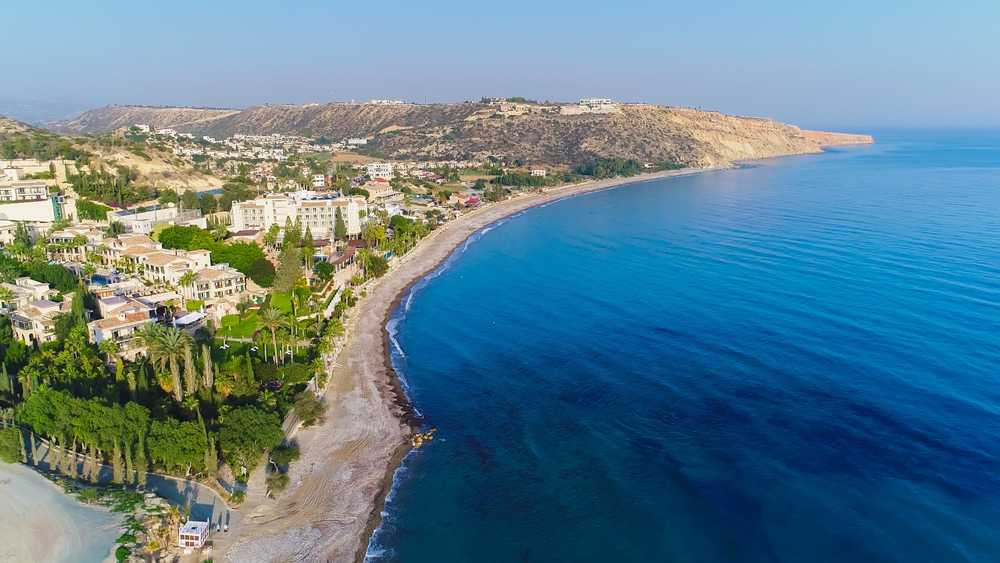 For a break from the crowds, brave the journey to Lara beach. It is actually not too difficult to get here as many hotels will offer to take you on a 4 wheel drive if you ask. This small stretch of idyllic sand, located on the northwest coast, is perfect for nature lovers, as in the waters you will find both loggerheads and green turtles! Finish off your peaceful day with another breathtaking sunset.
For something with a little less sand but a lot more history, head to Aphrodite's Rock and Beach, Paphos. Legend has it that the Goddess of Love and Fertility, Aphrodite, once rose from these waters which makes this spot one of the most famous and mythical on the island. It's not just the beach itself that is stunning to see but also the drive there, showing off the fantastic scenery along the coast line. We recommend heading there for sunset to see something truly spectacular.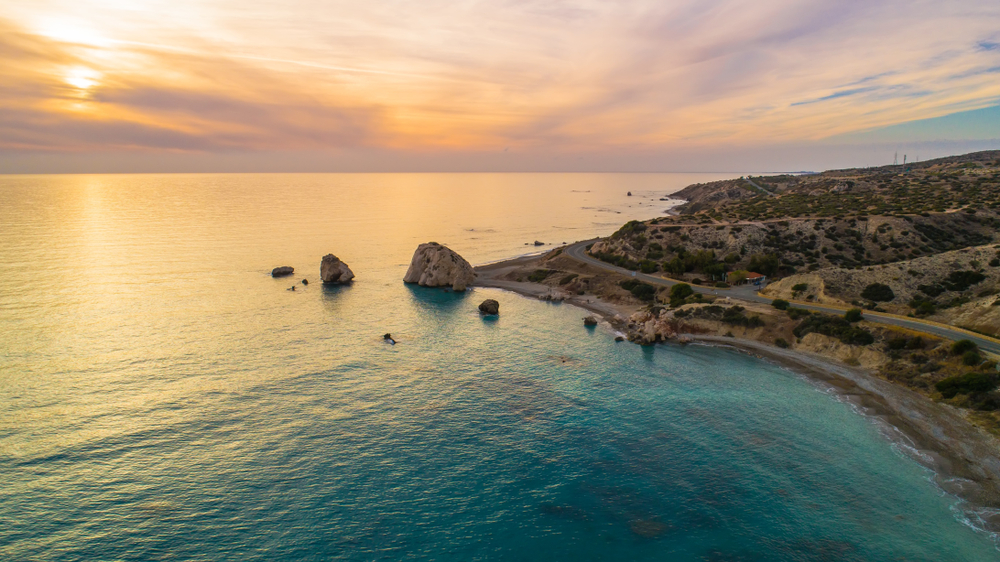 We hope that helps narrow down your search of beaches to visit in Cyprus a little bit! Have you been to Cyprus before and think we are missing a great beach off our list? We would love to hear from you on our Facebook or Twitter pages.