You could party inside whilst the lovely hot weather awaits you, or you could enjoy a party on the beach… we know which one we'd choose! Whether you're looking for some ideas for a girl's weekend abroad, a place to party with your friends or simply enjoy a few drinks with great music with your partner; these famous beach clubs will be perfect for your next trip.
Scorpios – Mykonos, Greece
The newest addition to the already exciting nightlife in Mykonos is Scorpios. This contemporary beach club aims to offer an artistic and spiritual environment with stunning landscape views of the ocean. In the daytime you can expect delicious food being delivered right to your beach bed but at night it turns into a party in the Mediterranean. With delicious cocktails, entertainment and fun music, you'll be sure to have an exciting time at this beach party.
People Bar – Formentera, Spain
Hidden within the family-friendly beach is the popular People Bar which offers some of the best mojitos around. You can treat yourself to a white-tuna salad whilst relaxing in a chilled out environment. With music playing, comfortable beds to enjoy and shallow water perfect for paddling… you can set up here and enjoy a beautiful view of the sunset. This is definitely one of the best beach clubs!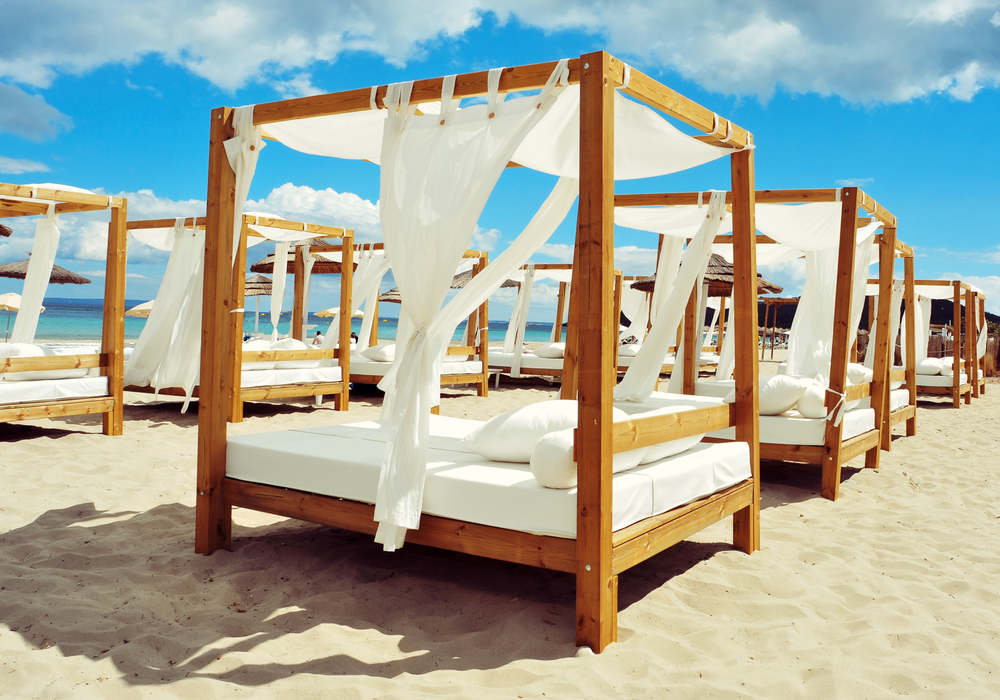 High Rooftop Lounge – Los Angeles
One of the best beach clubs in the world you can expect to find in Los Angeles, welcome to the High Rooftop Lounge. Grab a corner sofa and you can enjoy feeling bronzed and beautiful with the beautiful weather LA is famous for. The DJ knows the tempo you want and will keep it at the perfect level all throughout the day so you can keep sipping your wine and cocktails comfortably in a great atmosphere. It's no surprise as to why the High Rooftop Lounge is spoken very highly of (pun intended).
Beach Club One – One & Only Retthi Rah, Maldives
Get ready for the world's best beach club… here are the Beach Club One in the Maldives. Firstly, it's in the Maldives so you are guaranteed stunning weather and tropical surroundings but it's also located in one of the glitzy and most glamorous hotels in the country. The quirky small tents offer a place of shade, as well as the opportunity to enjoy a massage! It is rumoured they will be bringing a pool and an overwater deck for sunbathers, so this famous beach club is only going to get better.
Marina Beach Club – Spain
What was once just a regular Spanish beach is now a glamorous and famous beach club welcoming many celebrities over the year. The stunning parasols and large beds offer you a place to sunbathe by the large pool. With the palm trees in the back ground, you'll feel far away from Spain! You can enjoy the Valencian-and-Japanese cuisine complimented with delicious cocktails and a buzzing atmosphere. Once you get a taste of Marina Beach Club, you will never want to leave!
Over on TravelUp's Facebook we are always posting about our top quirky ideas and places to go which will help liven up your trip; these famous beach clubs are perfect for making your trip that little bit more exciting. What cocktail will you be ordering first?