A holiday in Majorca typically entails a lot of relaxing on the beach, so it's important to plan ahead and make sure you're enjoying the very best beaches on the island. We've put together a shortlist of the most idyllic shores for you to find so your only worry will be finding a sun bed!
Cala Mondragó
Named as one of the most beautiful spots on the East coast of Majorca, Cala Mondragó has turquoise sea, beautiful white sand and the beach is lined with pine trees, making it the perfect place for little ones to explore. There is a beach bar, which offers snacks and refreshments and also a large public car park nearby.
Es Trenc
As Es Trenc beach is not attached to any resort, it keeps its wild and natural feel. Despite this, it is still one of the most popular beaches on the island and is a hit with both tourists and locals. There are two beach bars nearby that serve drinks and snacks, lifeguards on duty, sunbeds and parasols for hire, toilets and ramps for the disabled.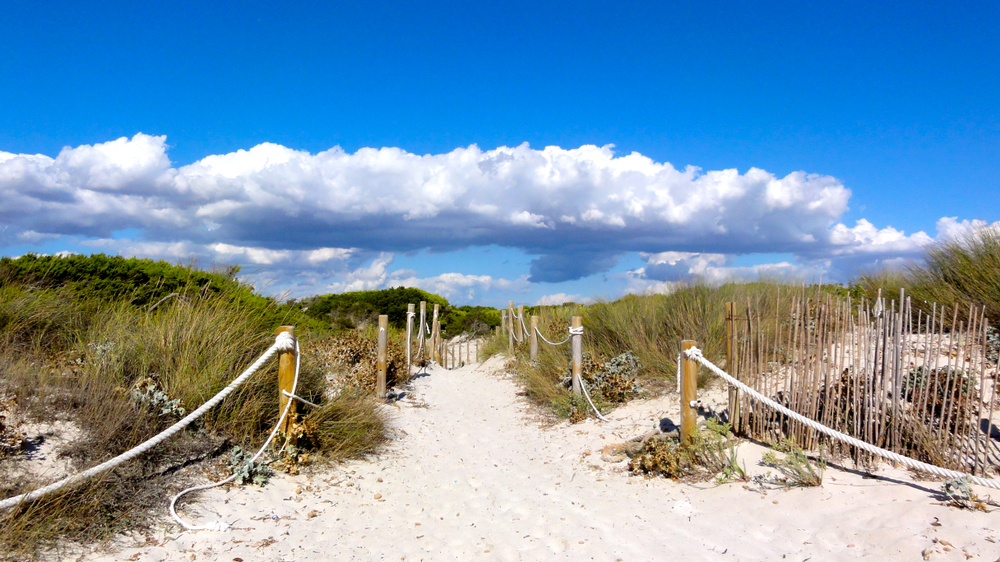 Cala Formentor
Formentor beach in Majorca entices you in with its stunning turquoise waters, fine white sand and a backdrop of mountains and pine wood forests. You're never too far from cooling off in the Mediterranean on this shoreline and it's perfect for relaxing with the children in the shade while still enjoying the sun.
Playa de Muro
One of the longest beaches in the Balearic Islands, boasting a beautiful six kilometres, Playa de Muro is split into four sections, all of which have sparkling turquoise waters and golden sand. This part of the Majorcan coastline is home to a number of luxury five star hotels and good restaurants and beach clubs, but is still perfect for families.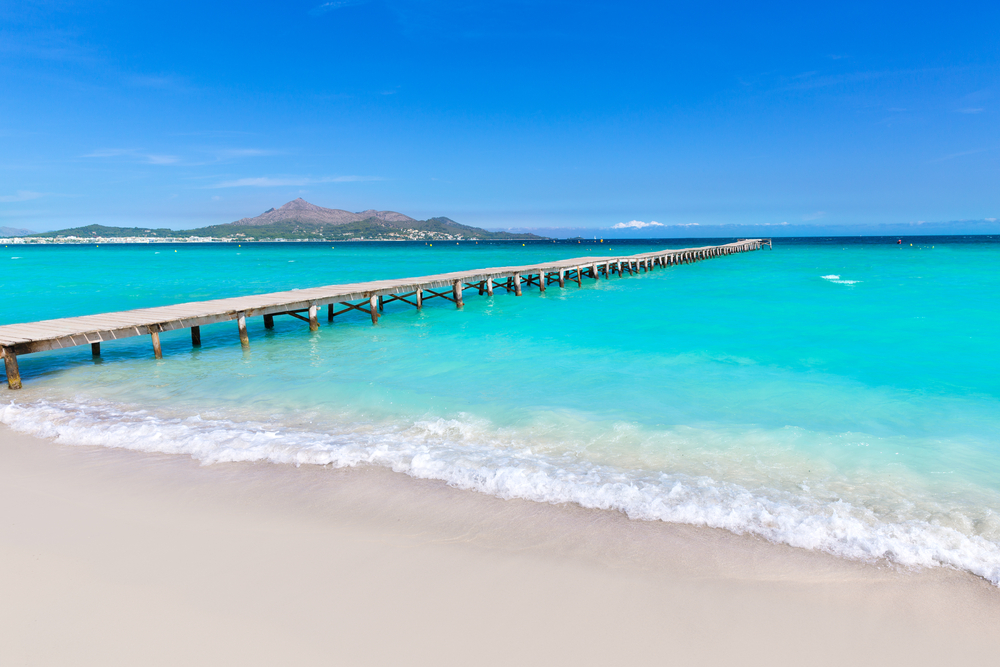 Port de Pollença
Port de Pollença sits in a horseshoe bay and is overlooked by the Tramuntana Mountains; this is one of the top beaches in Majorca and is truly stunning. If you want to take a trip down but want to make sure there's space, then check out this live webcam of the beach, where you can check in real time how busy it is and what the weather is like!
Playa de Alcudia
This beach is home to the resort of Port d'Alcúdia and is the biggest beach in all of the Balearic islands, which is what makes it so popular amongst visitors. It offers a wide range of facilities from restaurants and bars to public toilets, showers, sunbeds, parasols and it even offers WiFi connection!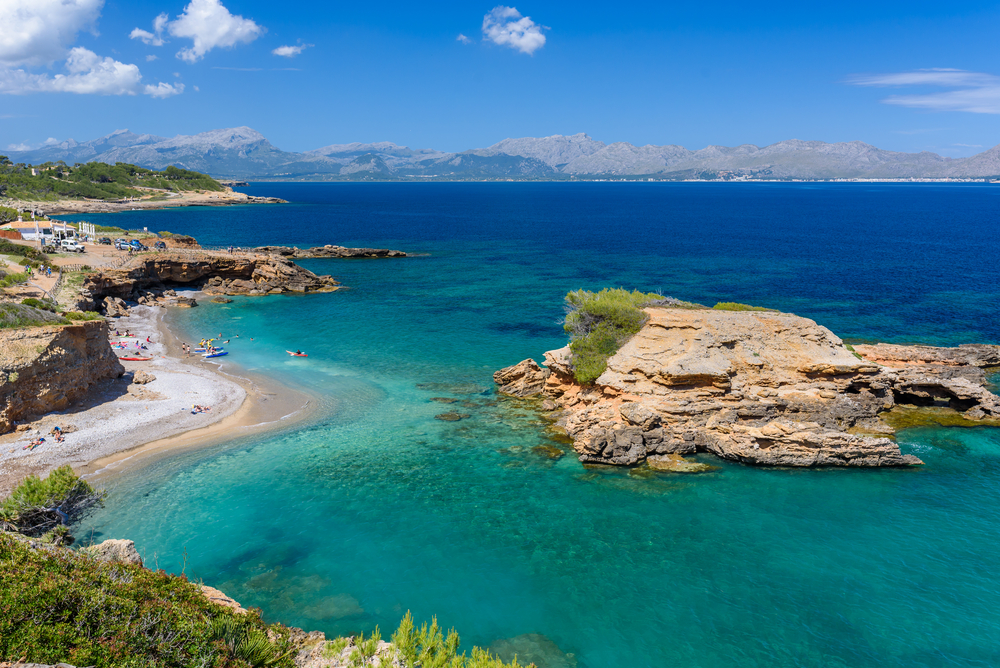 Cala Mesquida
This magnificent bay sits just north of the resort Cala Ratjada and has been named one of the most beautiful beaches in the north-east of the island. If you're a surfing fan, then you will be in luck here as it is one of the few beaches where you can catch a wave. There's also a watchtower on the top of a small mountain, which looks down on the busier part of the beach.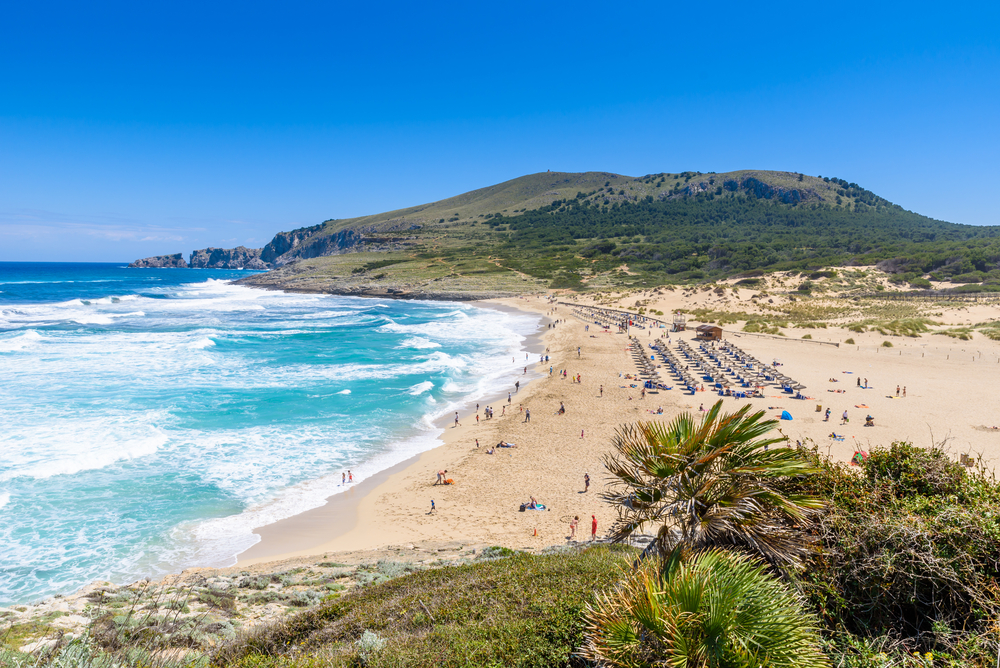 Portals Nous Beach
Situated close to the harbour of Puerto Portals, this stunning beach is very popular with Majorcan residents, it has parasols and loungers to rent and also has fresh water showers. There are also a few good restaurants nearby, perfect for taking the family after a day of relaxing in the sun!
Camp de Mar
Camp de Mar is one of the top beaches in Majorca because it is sheltered and protected against the wind. It is a small, purpose-built beach on the south-west coast of the island. You can find showers and toilet here, as well as ramps for the disabled and lifeguards on duty. You can also rent pedalos for some fun out on the calm water.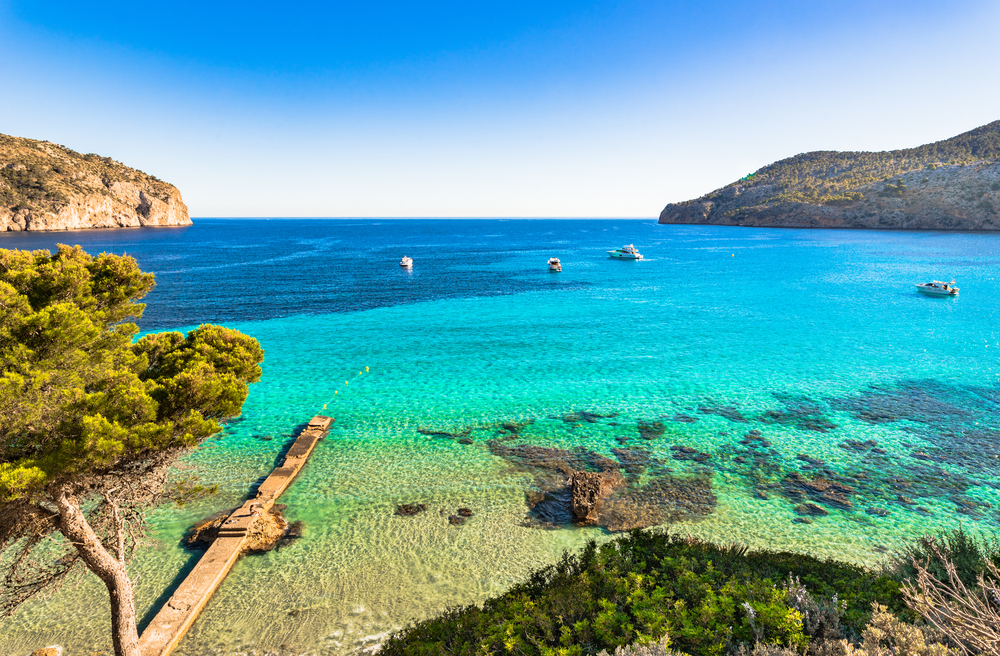 Sant Elm
Sant Elm is the largest sand beach in the south-west corner of the island. It is actually split into two, the more popular beach has white sand and the other side is rockier, which is typical in this area. There are on duty lifeguard on the beach, as well as the opportunity to hire sun loungers and parasols. If you head into the village you can enjoy dinner with a view at one of the restaurants.