New York City is full of many weird and wonderful things. This includes some of the best food in the city not being in fancy restaurants, but out on the street! Street food trucks are so popular with the locals that even though many move around most days, their aficionados follow the truck company's social media to discover where they could be eating their favourite meal that day!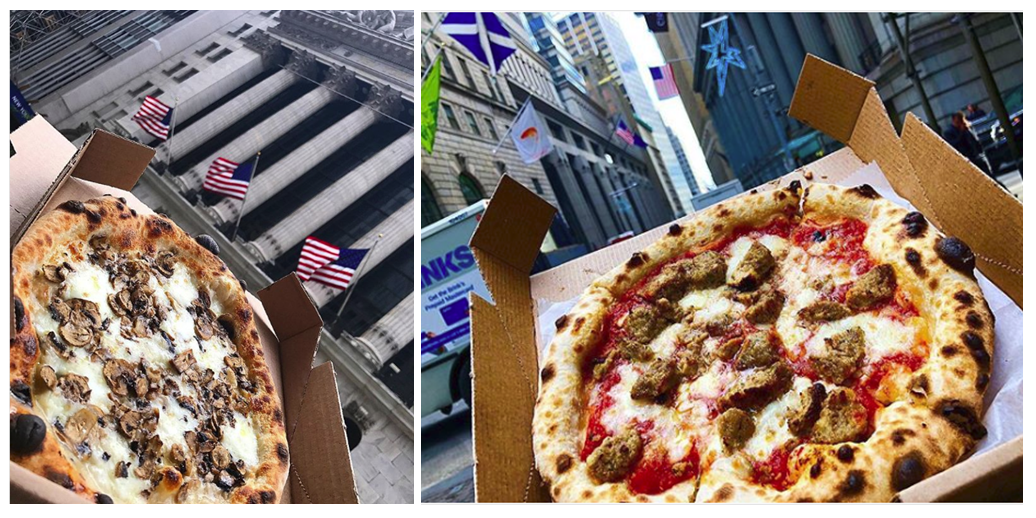 Photo credit @neaexpress Instagram
Neapolitan Express – Track the truck on twitter @NeaExpress
Of course, we have to start with a pizza stall! Neapolitan Express don't just cook up any ordinary pizzas, they produce delicious rustic-style pizzas that won't leave you feeling guilty. And if you do feel a little guilty after indulging in the delicious dish, just think that they run only on environment-friendly compressed natural gas so in a way, by buying pizza from them you are helping out the world! Who knew pizza could be so environmentally friendly?
Milk Truck – Track the truck on twitter @milktrucknyc
Not selling milk like the name suggests, this food stall is renowned for selling all the good old fashioned American classics. The sunshine-yellow truck named Bessie is extremely popular with locals on their lunch break, especially for their most popular item, the classic grilled cheese sandwich. Despite moving location every day (that can be tracked here), the truck has a loyal following which is happy to commute to wherever the truck may be.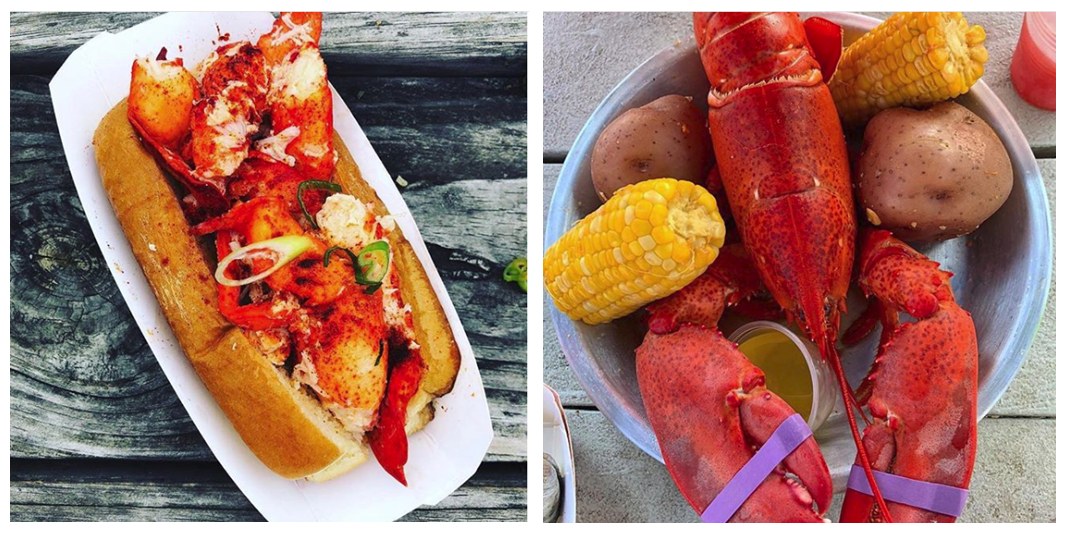 Photo credit @redhooklobster Instagram
Red Hook Lobster Pound food truck – Track the truck on twitter @Redhooklobster
If you are willing to splash out a little for some decadent lobster, search for the truck aptly named 'Big Red'. Here they serve both cold Maine-style lobster rolls with a touch of mayo and warm Connecticut-style lobster rolls drizzled with butter and lemon. If you're a fan of lobster this is one not to be missed!
Mr. Softee  – Track a truck here
When you spot this old fashioned blue and white van on the streets, it is the official signal that summer has begun! No fuss, no frills, just delicious soft serve ice-cream that will take you back to your childhood summers.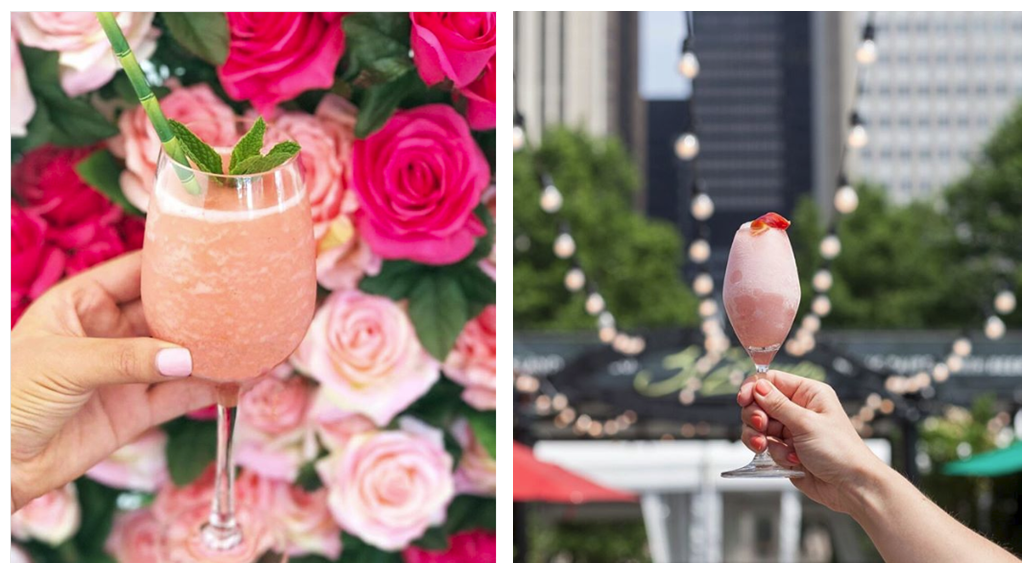 Photo credit @kelvinslush Instagram
Kelvin Natural Slush Co. – Track the truck on twitter @KelvinSlush
Want your Frappuccino fix but wish to support local businesses with the added bonus of a healthy, natural alternative? Head to Kelvin Natural Slush Co., where instead of sickly sweetcorn syrup, these icy concoctions contain delicious, natural ingredients such as blueberries to get their distinct flavour.
Xin Jiang Prosperity Kebabs – Location: Division St. at Forsyth St.
No street food list is complete without a kebab stall! Though this one may be a little different from what you are used to. Located in China town, for the low, low price of just $1 you can grab yourself some meat on a wooden skewer. Play safe and purchase the popular chicken or beef options or step out of your comfort zone and try the quail or chicken kidney sticks!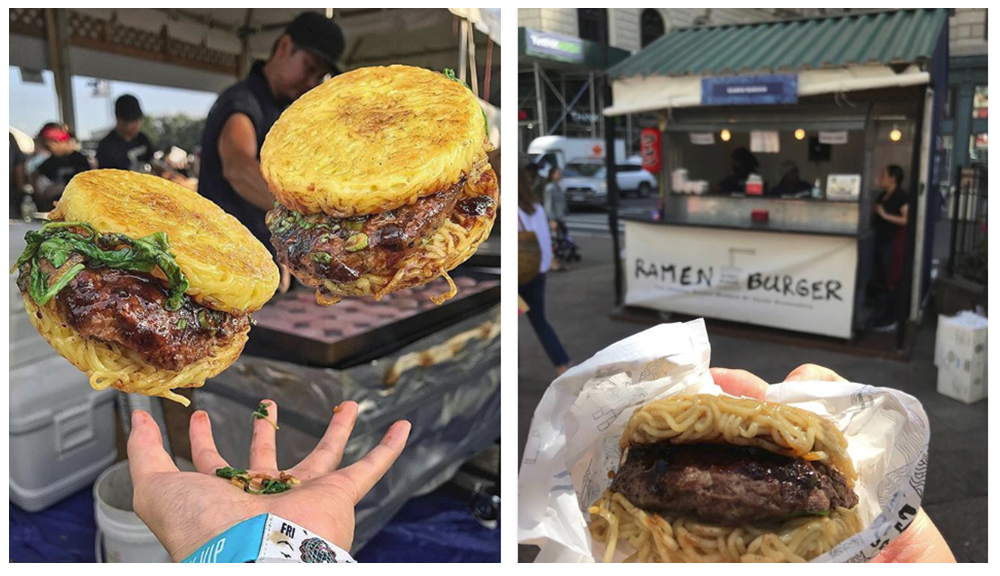 Photo credit @ramenburger Instagram
Ramen Burgers – Track the truck on twitter @ramenburger
New York is renowned for setting the latest food trends and since bread is totally last year, these ramen burgers could possibly the new way forward. Pretty much doing what it says on the tin, the ramen burger has the traditional grilled patty but it is then sandwiched between ramen noodles in the shape of a bun! There is a lot of fuss around this new trend, with hundreds of people queuing up by the truck on a Saturday morning to get their ramen burger fix.
Dirty Water Dog – Location: Everywhere
When you see the ubiquitous blue and yellow striped umbrella on many street corners in Manhattan, this is the sign of the iconic Dirty Water Dog food stall. Named after the salty water which the frankfurter is soaked in, these delicious hot dogs are an essential New York street food experience which is not to be missed!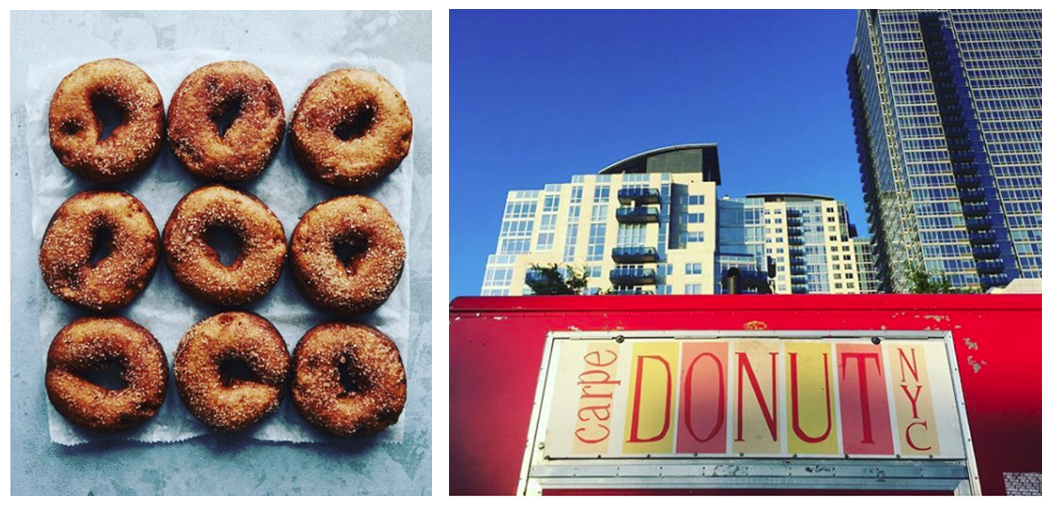 Photo credit @carpedonutnyc Instagram
Carpe Donut Truck – Track the truck on twitter @CarpeDonutNYC
These delicious sweet treats are so mouth-watering that they are sure to leave you wanting more. Though, technically, they can only be ordered one at a time, we recommend grabbing yourself a bagful! Our favourite is the apple cinnamon doughnut, to satisfy that sweet tooth craving.
That list is certainly enough to make anyone's stomach rumble and is sure to keep you busy for a long time searching the streets of New York. Have you been to the Big Apple before? Have we missed off your favourite New York food truck? We would love to hear from you on our Facebook or Twitter pages!