Packing for a girly weekend away can be difficult, and trying to maximize your luggage space is extremely important when you're travelling with hand luggage only. Of course, you want to look your best and pack something for every possible situation. Considering location, climate and the occasion can often leave you wondering what on earth to bring for your weekend away with the girls. We've got the essentials you need to bring and ensure you're packing hand luggage only.
Travel Essentials
Of course, whenever you're packing there are some absolute essentials, whether you're packing hand luggage only or not. Don't forget to pack:
Driver's license
Passport
Health insurance information (highlight the important phone numbers to call)
Plane tickets or prints out of your boarding cards
Bank cards you might need + cash (English money and foreign money)
Details of car hire, accommodation and any extra's you might have booked
Clothing
Trying to find outfits for your weekend away with the girls can be difficult, so we recommend taking 2 or 3 tops, and trousers that you can mix and match to make different outfits. You could also bring 2 nice dresses to wear in the evening if you are planning on doing something special. Also, don't forget underwear – you don't want to have to walk around with no underwear!
If you're going for a spa weekend, remember to bring bikinis too and overalls to wear around the pool. Click here for some Pinterest ideas on how to pack hand luggage only for your girly weekend.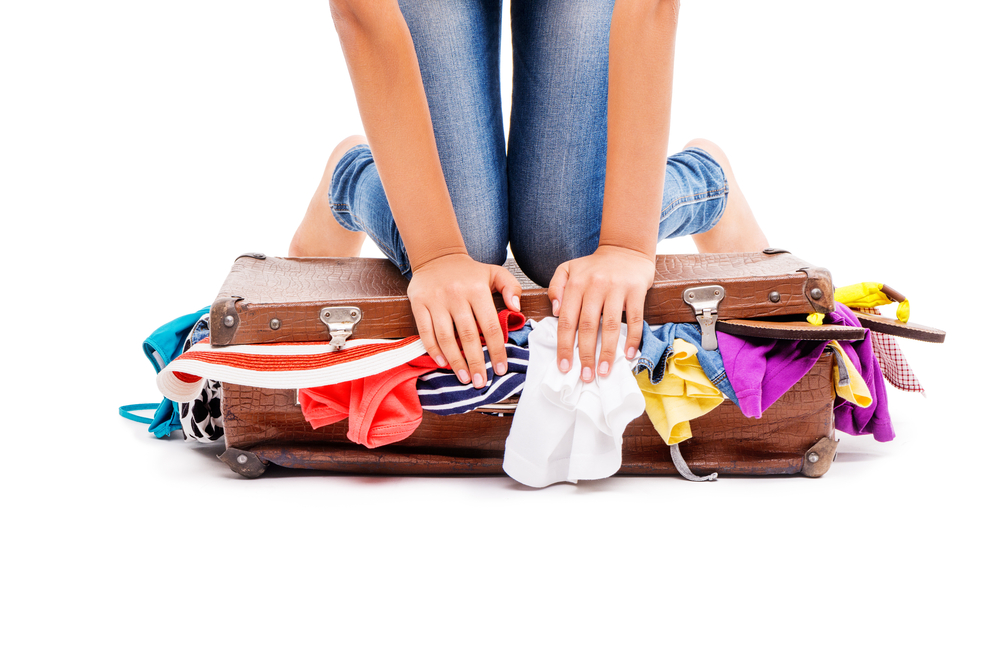 Accessories
We imagine a girls weekend getaway will be glamorous, so accessories will be needed. Here are our suggestions for all the accessories you might need which perfectly fits into hand luggage:
Water Bottle (empty to get through security)
Digital camera + charger (or use mobile)
Mobile phone + charger + headphones – this can then be used as an alarm clock, MP3 player, and radio
Mini torch
Nail clippers – you never know when you might break a nail
Sunglasses with the case, to avoid breaking them by accident
Earplugs for sleeping on the plane
Small first aid kit
Pen
Maps, guidebooks, and phrase book if you're not confident with where you are visiting
Reading material – this is also entertainment for the plane
Travel adapter – this will be perfect for using electrical devices including phone chargers
Toiletries
The essentials are of course toothbrush, toothpaste, and floss because hygiene is one of the most important things. Also, double check whether the hotel you're staying in has mini shampoo & conditioners so you don't need to pack them. Remember you'll be packing hand luggage only so the liquids and tinned deodorants need to be under the allowance to allow you through security.  This also applies for your makeup bag that you'll be packing so either go make-up free or pack little bottles of make-up instead. Lip balm is also another one many people forget but works wonders when on a flight as the air will dry your lips out.
Weekend flights are usually busier so be sure to pack things so all liquids and deodorants are near the top so you can easily get them out when going through security.
Next step is to pack pack pack! Good luck packing, you could either invest in a hand luggage bag or take a rucksack with all your essentials in. Just remember when packing, if you'll use it. If you're not going to wear/use it, don't pack it!