Most people would agree when you say the worst part of going on holiday is the travelling – crowds, flight delays and trying to remember if you've packed your toothbrush are always going to cause stress during what should be your most relaxed two weeks of the year! Luckily, there's a helping hand emerging on your smartphones: flight tracker apps.
These fantastic apps will alert you to delays with your flight to help with that pre-holiday stress, as well as providing other fun features like showing a worldwide flight map, pinpointing your position mid-flight and even giving airport advice to make layover's bearable! First of all, pick the best airline for your route and then off you go! Here are five of the best flight tracking apps.
FlightAware Flight Tracker
FlightAware Flight Tracker is a great free flight tracker, available on both iOS and Android. Perfect for any aviation enthusiast, FlightAware shows you a map of the world, complete with every aircraft in the air at the time, ranging from commercial flights to private jets! Its GPS capabilities enable you to check the aircraft in your vicinity, making the app fun to use even if you're sat at home watching planes fly overhead! On top of all this, FlightAware has all the tracking and real-time flight status updates as other flight trackers, making it a fantastic choice for anyone travelling by plane.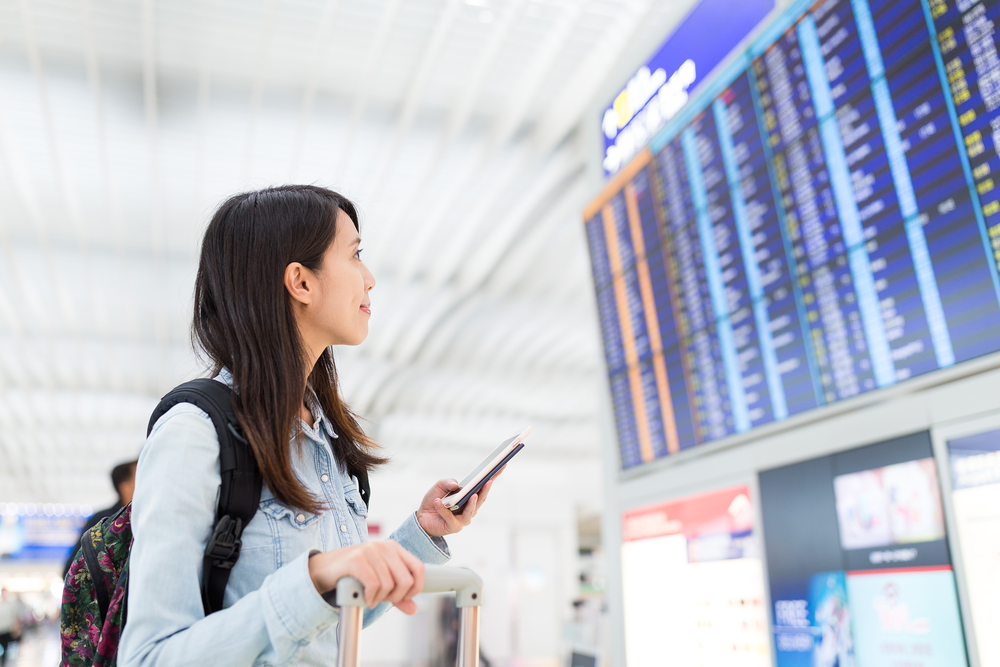 GateGuru
GateGuru aims to take the stress out of the whole airport experience, excelling in customising your travel day itinerary. Not only does GateGuru (owned by TripAdvisor) provide up-to-date information on your flight – it also provides detailed information about check in desks, security wait times, airport weather conditions, airport restaurant reviews and even last minute car rental rates for when you arrive at your destination! Available for free on both iOS and Android, you can't go wrong with GateGuru to make your airport experience an enjoyable one!
FlightBoard
We've all done it: getting caught in a big crowd in the airport, all craning your necks at one of the many screens showing the gate for your flight. With FlightBoard, you don't need to leave your seat to check for your gate or departure time. Mimicking the famous design of the flight board at Paris' Charles de Gaulle Airport, this app provides information on over 16,000 airports and 1,400 airlines across the world, so you're almost guaranteed to be covered! With up to the minute data on flight status, departure and arrival times and more, FlightBoard is a great option for any traveller. With both a free version and a paid version available for £2.99 available on both iOS and Android, there's no reason you shouldn't use this great app next time you travel!
Google Now
Available on iOS and Android devices, Google Now is a simple but effective source of information, and even better, IT'S FREE! All that users need to do is enter their flight number into the search box and Google do the rest; providing you with departure and arrival times, terminal numbers as well as gate numbers. It also has a flight-progress bar which provides updates as to whether a loved one's flight is on time or is delayed, a feature which other apps do not provide.
As well as providing its own information, the app also interlinks with other useful flight-tracking sources available on the web, putting its search engine at the forefront to provide users with the best results when it comes to updates on air travel.
TripIt
An app designed to do more than just track flights, TripIt can also help consumers to ensure they are fully prepared from a planning perspective. On signing up to this free app, you can manually add in all your holiday details to your app, allowing you to store travel details in one place whilst providing you with the standard functionalities of other tracker apps as well as additional interesting information such as the distance which is being flown and even the plane type.