Saving money on your Dubai flights is crucial – you will be jetting off to Dubai which is famous for shopping so of course you will want to have more money in your pocket to treat yourself (or others). There are so many different places to go shopping in Dubai from world-famous malls to gold souks; the choice is yours of where you wish to go. TravelUp have provided the best shopping places in Dubai.
Dubai Shopping Mall
This long weekend destination is home to the Dubai Shopping Mall which is one of the top famous places in Dubai for shopping thanks to have the complete package for a shopping experience. It has been described as a small city home to thousands of different stores rather than shopping centre. Other than the thousands of stores you can also find an impressive indoor waterfall, aquarium, an Olympic size ski-rink and a large variety of food outlets. If someone doesn't fancy shopping, they can always go off and explore what else is to see here.
Mall of the Emirates
A clear favourite for many when considering where to go shopping in Dubai is the Mall of the Emirates which has recently seen a huge renovation. With over 700 shops including popular brands like Debenhams there are also 100 food outlets too for that well needed shopping break. This mall also has an indoor ski slope which is very popular with locals and tourists. You'll definitely leave with your hands full of bargains from the shops here!
Deira Gold Souk
If you're looking to experience shopping in Dubai like a local, the Deira Gold Souk allows you to delve into the culture whilst enjoying a spot of shopping. Everything here is gold, hence the name. You can get gold jewellery and gold bars for an incredible price; just make sure to shop around as you can almost always get a cheaper price else-where. Bringing back gold will definitely be a unique souvenir from Dubai! Click here for more information.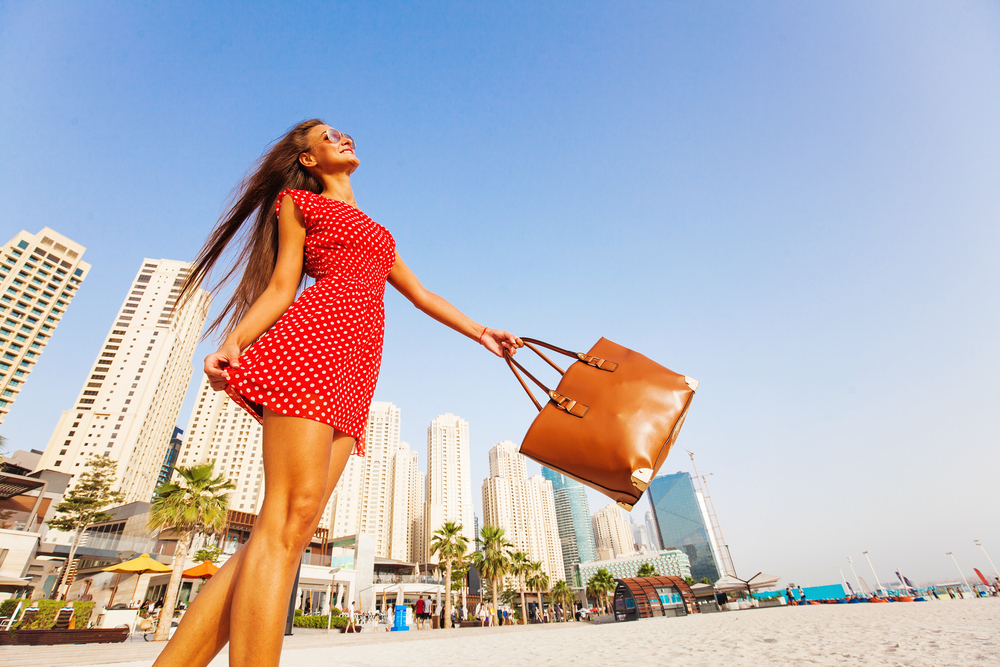 Jumeirah Beach Road
Jumeirah Beach Road is famous in Dubai for shopping because of the upmarket and elegant shops that can be found along this strip. This part of Dubai is stylish and similar to LA because of all the boutique shops, which is why the rich love to flock here to get the latest trends. Whilst the prices may be more expensive than the malls and souks, it's definitely worth the visit to see the contrast in shopping experience in one city.
Dubai Outlet Mall
Another popular Dubai shopping mall is the Dubai Outlet Mall because of all of the discounts that can be found here. The mall promises locals and tourists big brand items for a fraction of the usual price. With more than 1,200 famous international brands here with discounts being spread over 240 shops, we know that you'll find something here to buy from lampshades to the latest clothing trends.
Global Village
Global Village is famous in Dubai for shopping festivals, and even if you don't wish to shop here you are almost guaranteed to be entertained. With a carnival-like atmosphere, you can find stunts and performances from international performers that will have you holding your breath. With the live entertainment and array of discounted shops here, any day or evening spent here will certainly be an entertaining one. Click here for more information.
There are so many more places to go shopping in Dubai and each location has its own unique personality that no shopping experience will be the same in the exciting city. Just remember to not over-pack your suitcase because nobody likes to be charged for suitcases that are over the weight limit.