You're in New York, you are finally over 21 (or pretending you still are 21) but where is actually the best bar to go in the city that never sleeps? We have complied a few of our favourite places ranging from themed bars to cocktail heaven for you to choice where you night will take you.
Located in Bushwick, Brooklyn you will find the ever growing in popularity, Boobie Trap bar and f the hilarious name isn't enough for you, maybe the equally hilarious and warm staff will be enough to tempt you there. If you're sick of fancy shots that cost the same as your handbag, then you'll be pleased to know the food and cocktails here all come at a very reasonable price.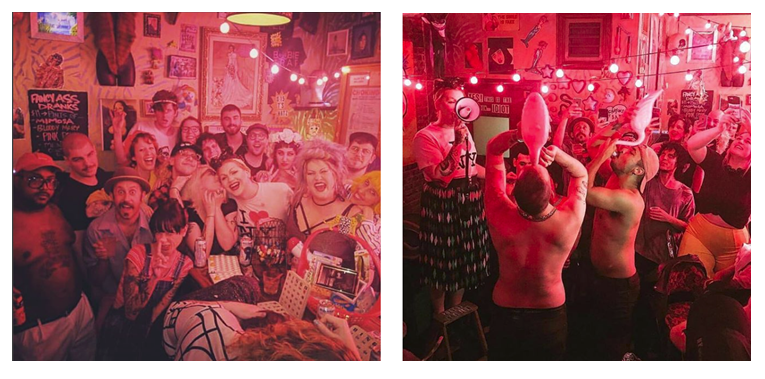 Photo credit @boobietrapbushwick Instagram
Looking for the cheapest beer in the city? This aviation themed bar is the place for you. Flight 151 won't break the bank and will leave you full of wanderlust from all the amazing art murals of distance places around the world – a great place to sit and plan your next trip. And if beers aren't for you, don't worry as they do $4 margaritas on Mondays or excellent happy hours on weekdays!
I'm sorry PDT but we are going to tell! Is going to a secret hidden bar that only a select few know about on your bucket list? Impress your friends with your knowledge of PDT bar. Where? Through a vintage phone box of course! Located inside Crif Dogs hot dog joint, you must enter the phone box, pick up the phone, dial a secret code and voila! To receive your code you must make a reservation, though these can only be made on the same day – totally worth it to get in this exclusive bar.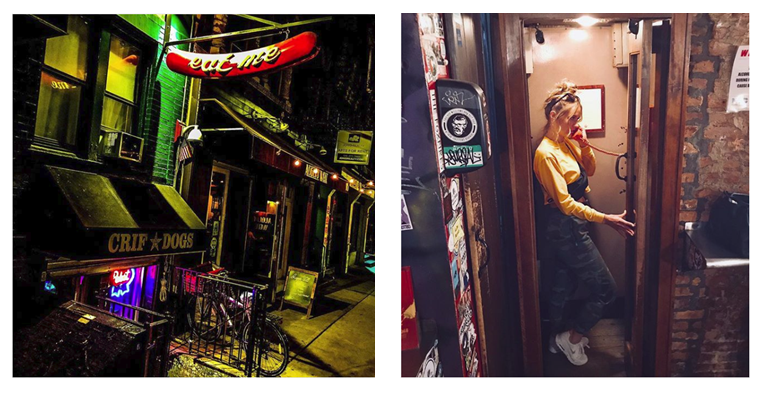 Photo credit left @speakeasycentral, right @toriarob Instagram
Experience the South in the East! You'll feel like the star of a cowboy movie in the 19th-century New Orleans saloon bar. Experience Shrimp & grits and biscuits & gravy (not the digestives and Sunday roast sauce you are thinking!) and kick back amongst the velvet curtains and slatted shutters. It features a back yard garden and a hitching post for your horse. Because what's a cowboy/cowgirl without their trusty steed?
No best bars in New York list would be complete without an awesome karaoke bar! Sid Gold's Request Room is the odd yet perfect merge of a classic piano bar and sing along karaoke. The bar is split into two parts, on one side you will find a mic, the stage and your adoring audience for the night and, for the less confidence of us, there is a group merrily singing along together to the accompaniment of a piano. What more can you ask for? A marbled cocktail bar serving wine, beers and bubbly? Well, they have that too!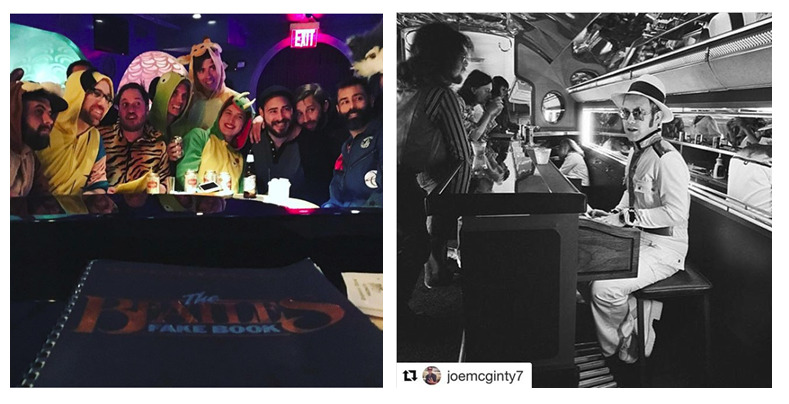 Photo credit @sidgolds Instagram
Amidst the dive bars, all you can drink brunches and rowdy bachelor/bachelorette parties in the East Village, you will find a quiet piece of heaven where you can drink the most wonder and wacky cocktails going. Banana Bread make from Scotch, banana, sea salt, sherry and walnut liqueur or  Zoot Suit which contains white rum, blackberry, boomsma cloosterbitter, lime and absinthe are just a couple of the inventive cocktail you have try here and they do not come at a ridiculous price!
This themed bar is of… you guessed it a Trailer Park. Forget sipping Champagne out of glasses and swap this for the just as classy sipping through a straw out a can! This super kitsch bar is definitely for though with a dry sense of humour and wanting to embrace all that you see trailer parks to be in the movies. Whether it's the turkey burgers and MoonPies, the pitchers of margarita or the neon signs, this bar well and truly lives up to its theme.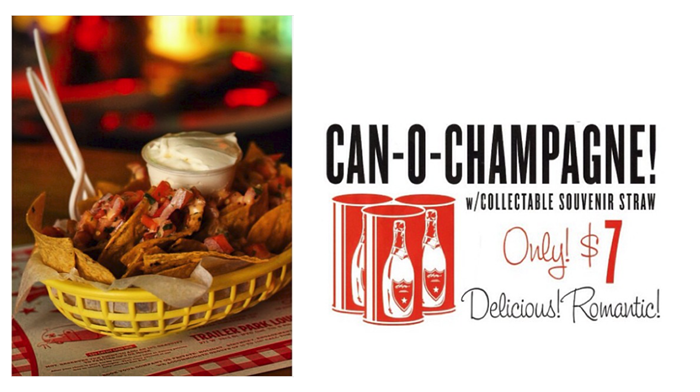 Photo credit @trailerparknyc Instagram
We hope we help helped narrow down your search for bars to visit in the big apple and have given you some idea of all the crazy, unique places New York has to offer. Have you been to one of these bars yourself? Is there are best bar you think we have missed off our lists? We would love to hear from you on our Facebook or Twitter pages!