Australia is full of foodies and always up to date with the latest food trends. Brisbane is full of some of the most amazing bars, cafes and restaurants, all with their own unique selling point. Below is a list of a variety of places to satisfy your appetite for various occasions.
1) For Your Sweet Tooth:
If it's a sweet treat you are looking for, then look no further. Cowch Dessert Cocktail Bar is in the centre of Brisbane, just off South Bank, and has a super relaxed atmosphere. All of their dishes are super pleasing to the eye and the mouth. They have churros, waffles and ice cream burgers but our favourite has to be the dessert pizzas. Choosing between toppings such as white or milk chocolate, strawberries or bananas, gooey marshmallows or crumbling Tim Tams may just be the hardest part of your day. Though once you have finally decided, you can reward yourself with some of the most Instagrammable cocktails around. A Rocky Road covered in cream, marshmallows and chocolate or a Candy Margarita topped with real candy floss. One thing is for sure, you will leave this place on a sugar high with amazing memories.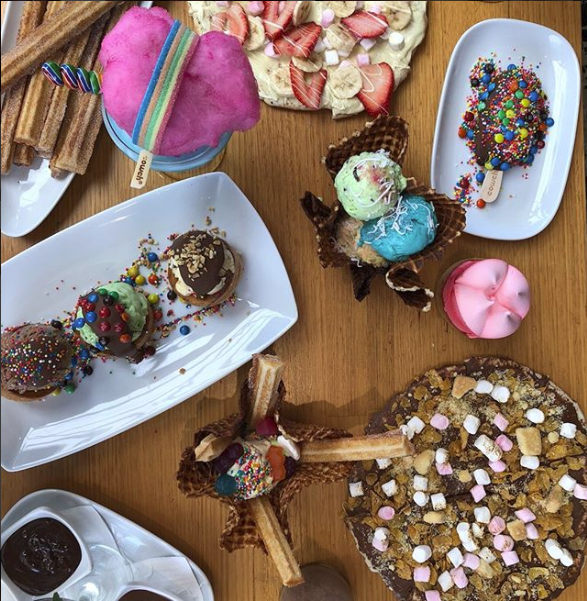 Photo credit: Instagram @cowchoffical
2) For The Ladies (& Men) Who Brunch:
Hansell & Gretel Espresso & Breakfast Bar
If you didn't know about this place, you may miss it. On the side of a road in Gaythorne lies one of the tastiest breakfast bars with sizeable portions – perfect if you had a couple of drinks the night before! Like most places in Brisbane nowadays, there are Vegetarian and Gluten Free options available. For a true Aussie brunch, go for the smashed avo & feta on sourdough and for a real treat you must try the milkshakes, in particular the macadamia milkshake! You will not be disappointed.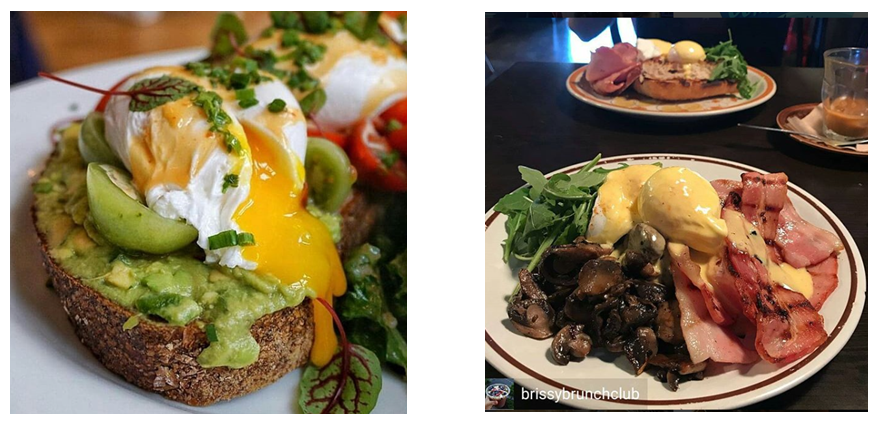 Photo credit: Instagram @hansellandgretalcafe
3) For A Wallet Friendly Meal Before You Hit The Bars:
Amongst the lively bars of the West End, you will find Beach Burrito Co. It is hard to miss with its brightly coloured umbrellas out on the street. As the name suggests they do amazing burritos as well as tacos, nachos and quesadillas. If you fancy a burrito with something a little extra, you should try their Chimichangas. All the deliciousness of the burritos but then flash fried for that extra crunch on the outside and gooeyness on the inside!
There are always great deals on throughout the week here too. From Taco Tuesdays (all tacos just $3!) or Frozen Fridays ($10 margaritas!). The best time to go is at happy hour, 4-6:30pm on week days, where you can eat good food and enjoy the drink deals with your friends as you watch the bars liven up around you, a perfect way to start the night – in the heart of it all.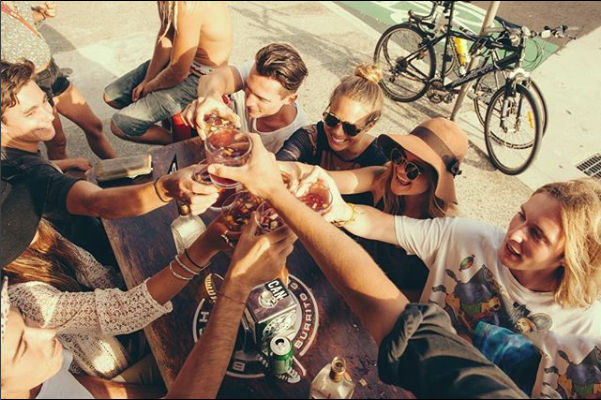 Photo credit: Instagram @beachburritoco
4) For Excellent Food And A Warm Atmosphere (After Seeing The Brisbane Lions Play):
If you have just watched the Brisbane Lions (or any other of the many sporting events) at the Gabba, the next thing on your mind is probably food. Foxy Bean Cafe is just a ten minute walk from the stadium and definitely has the best food around. If you are lucky you will catch the amazing live music of local acts whilst being able to relax in their spacious beer garden. The food here is exquisite and all the staff here are super friendly and helpful to accommodate you in any way you need.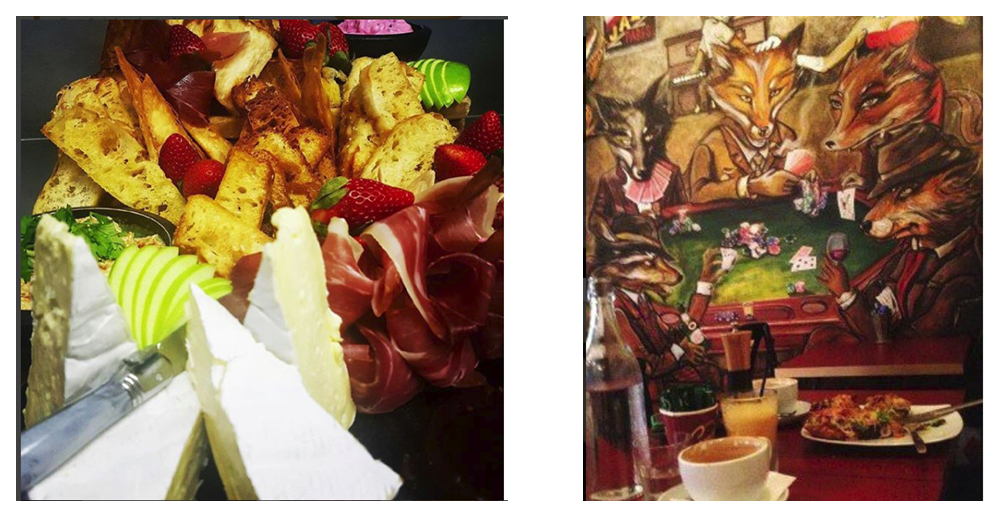 Photo credit: Instagram @foxybeanfoxydrop
5) For A Place To Rest And Relax In The CBD:
For a much needed place to rest after plenty of shopping around the CBD head to Jimmy's on the Mall. The first outdoor restaurant in the Queen Street Mall has been open for breakfast, lunch and dinner 7 days a week since 1982 and is situated just of Albert Street. It is hard to miss the two story bar & restaurant which is located in the middle of a walking street and covered in fabulous greenery. The retractable roof ensures this place is ready for all weather as well as a vast variety of food ready for whatever it is you fancy.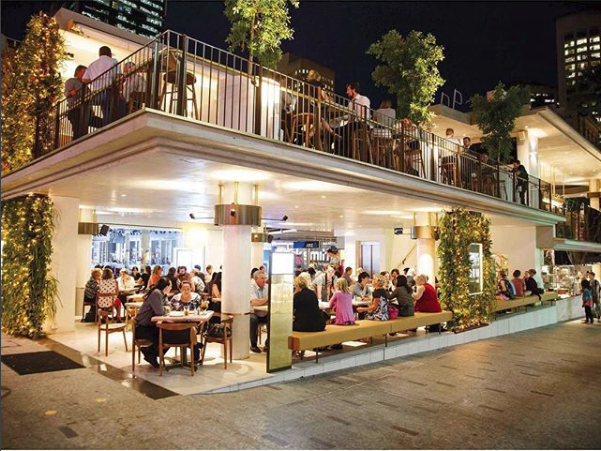 Photo credit: Instagram @jimmysonthemall_queenst
6) For EVERYTHING!
Last but absolutely not least! Our favourite place (possible in the world), Eat Street Northshore!
Your trip to Brisbane is not complete without a trip (or two) to Eat Street Northshore. Which is open every Friday, Saturday (4pm-10pm) and Sunday (12pm – 8pm) and only $3 entry per person (free for under 12s). The choice of food is ridiculous with over 180 dining and entertainment shipping containers that take Eat Street food market to another level. You are sure to find the cuisine you fancy here with flavours from all across the globe. Plan like a pro and head straight to Slinky on the Main Deck. Slinky take an ordinary potato and, in front of your eyes, turn it into one of the greatest snacks to grace mankind. Washed, spiralised and deep fried before you, the Slinky is then covered in delicious chicken salt and handed over. This is the perfect snack to enjoy, whilst wandering around the stalls for your next feast. You can also enjoy live music and find quirky clothes and accessories in the shops dotted between all the delicious food stalls. You really do need to see it to believe how great Eat Street truly is – it is worth the trip to Brisbane just for this!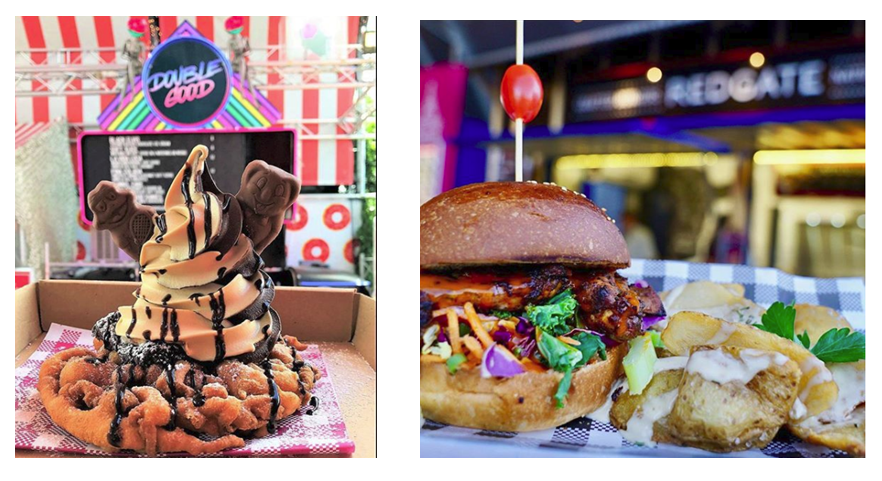 Photo credit: Instagram @eatstreet
Flying to Brisbane is now easier than ever! Fly with Malaysia Airways from London to Brisbane, with the new route that has only one stop at Kuala Lumpur airport. The airline makes the long haul journey super comfortable and, with only one stop, this route is sure to get you to the other side of the world with little hassle. Check out flights from London to Brisbane with Malaysia Airways here http://po.st/71sV3X.
Other great destinations you can fly to with Malaysia Airlines include Perth or Adelaide or even a free side trip to Peninsular Malaysia when travelling to Australia or New Zealand.  There is also a new A350 service from London to Auckland stopping via Kuala Lumpur that launches in August. So plenty of options to choose from to get you comfortably to the other side of the world!
Have you or someone you know been to Brisbane before? Do you have a favourite place to eat that isn't on our list? We would love to hear from you on our Facebook or Twitter pages.