Theme parks are perfect for an extra special day out on your family holiday and can create unforgettable experiences that will be spoken about for years to come. Gran Canaria's theme parks truly excel in the 'theme' part of the term. Whether your kids love cowboys or angry birds, there is something for each of your little soldiers.
Bringing the world-renowned game to life, this theme park encourages your children to play outdoors instead of using an electronic device; and what better place to play outdoors than in sunny Gran Canaria? This is the perfect park to take your kids to, especially if they vary in age as it caters for a wide range of ages (from 5 all the way up to age 13). However there are still fun activities for the little ones and the big kids in us all! The park has many different zones from jumping, playing and exploring to football pitches, karting tracks and trampolines, featuring the game's most popular characters throughout. There is even a life size activity of the Angry Birds game itself where one can fire rubber balls at thieving piglets!
For all the cowboys or cowgirls out there, this is the park for you! The whole park is a replica of an American Wild West town and truly delivers the excitement of a good old fashioned showdown. A great day for all ages to enjoy, there are plenty of activities you will not find in your average theme park. Watch in awe as you witness a talented horse-whisperer in front of your very eyes or gasp in excitement at the lasso and knives show performed by a Guinness World Record holder! One of our favourite features of this theme park is that it carries out a free bus service from many of the nearby resorts, taking out the hassle of a taxi – YEE-HAA!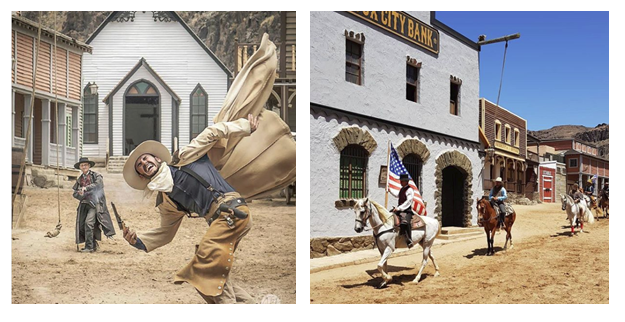 Photo credit: (left) @moiquintanaaa Instagram, (right) @canarrred Instagram
Similar to paintballing, the growing trend of airsoft is being seen in more and more places and is perfect for those who wish to have a somewhat real experience on the battlefield. The guns used in this sport are more realistic than paintball guns and they are lighter and easier to manoeuvre. The great thing about Hangar 37 is the incredible setting in which the games take place. With many planes, trucks, tunnels and secret passages to hide out in, the thrill never ends! Another perk of the park is the sociability that is encouraged here; you can turn up as a single player or small group and can join the next game, which takes place every 10 minutes.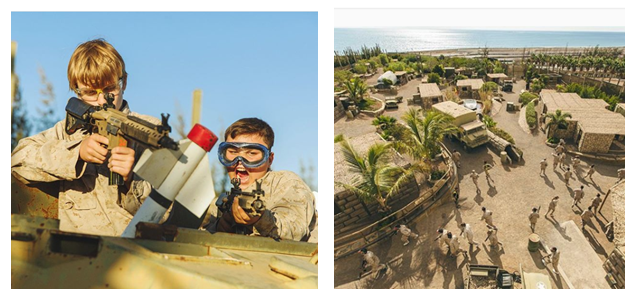 Photo credit: @hangar37   Instagram
A must on a family holiday to sunny Gran Canaria is a visit to Aqualand Maspalomas with water attractions full of adrenaline for the older kids and an entire mini park of rides for the younger ones. It's the best way to cool off in the heat and have fun at the same time! Aqualand is so much more than just swimming and slides, as you will get the chance to swim with sea lions, relax in their massive Jacuzzi or even play some chess! What better way to make unforgettable family memories?
Last but not least, here's the traditional theme park with all the rides and excitement your heart desires! This theme park may be small but here you can enjoy all the sensations of a much larger one that includes rollercoasters, a ferris wheel, bumper cars and much, much more. This is another great day out for a family of all ages and for a very reasonable price.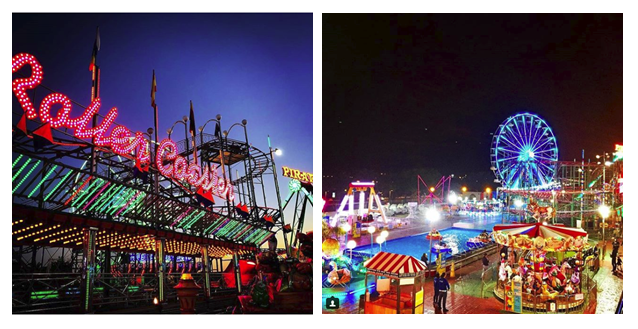 Photo credit: @holidayworldmaspalomas Instragram
As you can see, Gran Canaria has some unique theme parks which will guarantee a fabulous family day out for everyone. Have you been to a theme park in Gran Canaria before? Which one was your favourite? We would love to hear from you on our Facebook or Twitter pages!